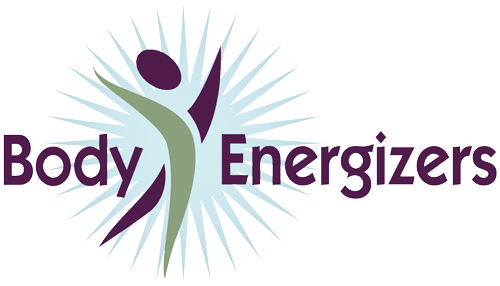 Workplace & On Set Massage Services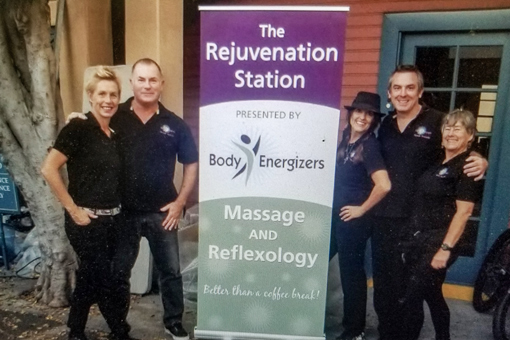 On Location Massage Therapy
Body Energizers is a Los Angeles based company with more than three decades of experience offering on-set massage and spa services. 
Owned by industry veteran Diane Hubner, each therapist is hand-picked for their skill, professionalism and discretion.
"From the moment Body Energizers is on location, we transport you to wellness.  We offer a wide range of treatments and services designed to create a great impact in a short timeframe." 
Body Energizers specializes in on-set massage therapy to relax and rejuvenate hard working cast and crew through long days of production.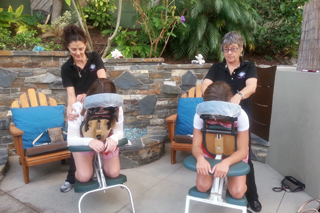 More than a perk, benefits include:
Increased productivity, creativity and energy
Reduced fatigue, injuries and stress
Increased morale, letting the team know you care about them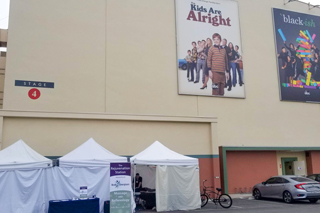 With more than three decades of experience, we:
Move invisibly on set
Keep things running on time, even your stars
Work around wardrobe, makeup and hair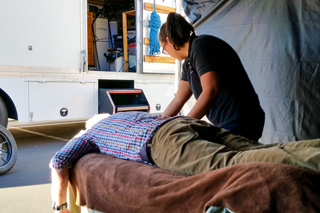 On a moments notice, we:
Take care of everything with one short conversation
Create an oasis in any sized space or environment
Are able to serve crews of any size with a scalable team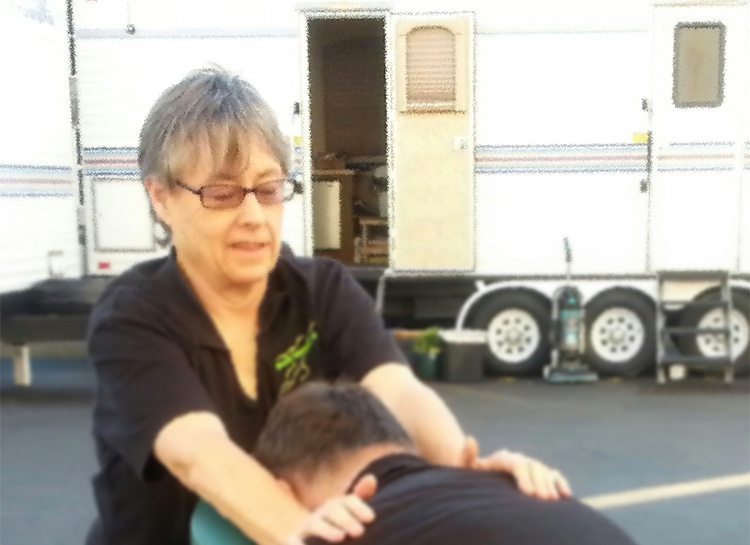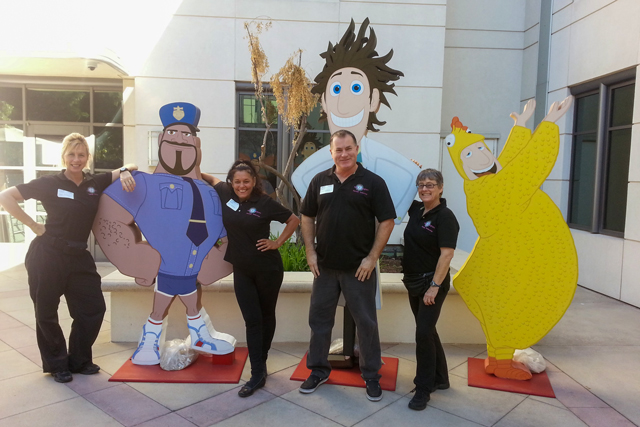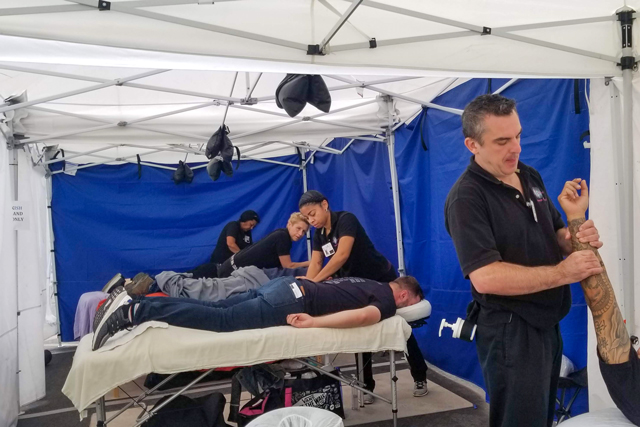 Diane Hubner
Owner
Diane Hubner
has been a Massage Therapist since 1976, and helps clients achieve optimum health and well being through Massage, Reflexology, Mindfulness and Life Coaching.
She created Body Energizers in 1987 to specifically work with the Entertainment Industry seeing the need to bring stress reduction healing and rejuvenation to an industry that works really hard and long hours.  She has increased her Team to include some of the finest Bodywork Practitioners in the Country.
Diane lives in Marina del Rey where she enjoys sailing, kayaking, cycling, hiking, yoga, meditation and hanging out with her therapy dog Zeus.
Gina Pitrello
Massage Therapy/Yoga Instruction
Gina Pitrello has been a Massage Therapist with Body Energizers since 1995.
She has a firm but healing touch and brings a wave of calm and rejuvenation to those she works with.
Gina was trained in Swedish, Deep Tissue, Cranio Sacral and Polarity therapies through the Institute of Psycho-Structural Balancing (I.P.S.B).
She is also a Kundalini Yoga and Modern Dance teacher and Wellness Coach through the Chopra Center.
Nancy David
Massage Therapy
Nancy David has been a Massage Therapist since 1995 and brings a warmth and dedication to the Body Energizers Team. 
She has studied all over the country at some of the top training institutions and is trained in many modalities:  Swedish, Deep Tissue and Cranial Sacral.  She provides the ultimate healing experience in a short time.
Perfect for set work, Spa Parties, as well as in home experience.  She has been part of the Body Energizers Team since 2013.
Lotta Nilsson May
Massage Therapy/Personal Training
Lotta Nilsson May  has been a certified Massage Therapist since 2010 and Personal Trainer since 1997.  She joined the Core Body Energizers Team in 2010 which is rare but her innate abilities were there from the beginning.
Lotta brings a unique dynamic to each session because of her extensive background as a Personal Trainer and a Group Fitness instructor. She's born and raised in Sweden and moved to the US in 1997.
She is experienced in Swedish, Deep Tissue, trigger point and chair massage has made her a sought after Massage Therapist to celebrities, VIP's and anyone else who needs a healing touch.
Lotta lives a very active life and when not working you can find her on the beach, stand up paddle boarding or hiking with her dogs.
Michael Canvin
Massage Therapy
Michael Canvin is originally from Copenhagen, Denmark, now living in Los Angeles.
He has been a Massage Therapist since 2002 having studied extensively at the world famous Esalen Institute in Big Sur,  CA.  His training there in deep bodywork, deep tissue and classic Esalen Massage has greatly enhanced the range and quality of his work.
Michael joined the Body Energizers Core Team in 2003 and is a highly sought after Massage Therapist.  When not working he enjoys spending quality time with his wife, son and daughter.  He enjoys studying languages and working out.
Heather Mills
Massage Therapy
Arthritis at a soul food dinner was the beginning of Heather Mills career in manual therapy.
At the time she was an award winning glass artist seated next to a noted saxophone player. She noticed the way the musician was moving his shoulder and reached out to help.
The success of that effort led her to the East West College of the Healing Arts in Portland, Oregon.
Fascinated with the myriad of approachesto health and well being, she graduated in 2007 with a National Certification and began working alongside a Chiropractor and a Personal Trainer.
Arriving in Los Angeles in 2009, with the warmth of the sun fueling her passion, she extended her training to include Swedish, Deep Tissue, Aromatherapy, energy-shifting Polarity Therapy and Hot Stone and spa treatments. Heather believes the most effective massage involves listening at all levels, meeting you exactly where you are in the moment, and holding space for you to discover and accept your body in the "way we are tied in."
When she's not next to a massage table, you will find her dancing in a kitchen, upside down in a yoga studio, or watching the waves.
James Browne
Massage Therapy
James Browne is a native of Seattle, WA having moved to Los Angeles in 2000.  He is a graduate of IPSB Massage School and went on to study under Garnet Dupuis of the Massage School of Santa Monica.
James has been a member of the Core Body Energizers Team since 2011, and has been in full time practice since 2005, honing a craft of delivering individualized treatment that creates lasting change to the muscles. He has been a top recommended therapist amongst personal trainers, addressing sports injuries and overuse issues, mainly related to the arm and shoulder; specializing in deep tissue massage that is deep but can gently get in there; "under the radar" creating lasting change to the muscles.
He is well versed in Deep Tissue, Trigger Point, and Structural Integration.
In his free time, James loves the outdoors, volleyball, hiking and skiing.
Diane Laurino
Massage Therapy
Diane Laurino, is a native of Venice Beach.  She graduated from IPSB in 1999 and has been working as a Massage Therapist since 2000. She has worked extensively in PhysicAL Therapy and with Athletes utilizing Deep Tissue, Swedish, and Prenatal. 
When not working you can find her either at Disneyland or enjoying the latest theatrical play or musical.  She occasionally would help Body Energizers out when needed and joined the Core Body Energizers Team in 2018.
Lisa Chan
Acupuncture
Lisa Chan, L.Ac, is a licensed acupuncturist herbalist and has been a Hand foot and ear Reflexologist since 1991. She has taught Reflexology at The American Academy of Reflexology since 1995 around the country. 
She has trained and also integrates the principles of cranio Sacral and polarity therapy into her sessions.  She teaches and practices shamanic and intuitive healing and is the author of the Reflexology Coloring book.
Chris Lindsey
Reflexology
Chris Lindsey is a highly trained AAR and California State Certified Reflexologist.
Since 2005 his many experiences include clinical work, retreats, and working on top athletes.
Using the reflexology maps he helps to reduce stress and provide a deep sense of relaxation and well being.
He enjoys bike riding, golf and yoga.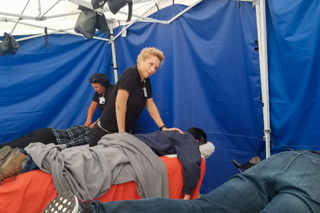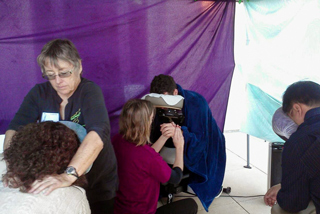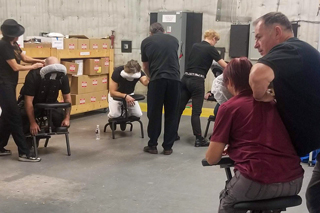 Tacoma FD
One Day at a Time
Vida
Grace & Frankie
Mixedish
Grownish
Blackish
SuperGirl
KC Undercover
Brooklyn Nine-Nine
Super Fun Night
Parks and Recreation
Family Tree
Go On
Vegas
Raising Hope
The Event
Pop Idol
PeeWee's Playhouse
The Nanny
Roseanne
Facts of Life
Head of the Class
My Two Dads
Cagney and Lacey
Call of the Wild – 2019
Once Upon A Time In Hollywood – 2019
London Calling – 2014
Oz, The Great and Powerful – 2013
Saving Mr. Banks – 2012
The Amazing Spiderman – 2012
Men in Black 3 – 2012
Larry Crown – 2011
Avatar – 2009
Drag Me to Hell – 2009
Charlie Wilson's War – 2007
Catch Me If You Can – 2002
Castaway – 2000
Shiloh 2 – 1999
A Night At The Roxbury – 1998
Dance With Me – 1998
Always Outnumbered, Always Outgunned – 1998
Metro – 1997
A Smile Like Yours – 1997
Shiloh – 1997
That Thing You Do – 1996
The Nutty Professor – 1996
Sgt. Bilko – 1996
Apollo 13 – 1995
Naked Gun 33 1/3 – 1994
Hot Shots Part Deux – 1993
Jurassic Park – 1993
Another You – 1993
Demolition Man – 1993
A Few Good Men – 1992
White Men Can't Jump – 1992
After Burn (HBO) – 1992
Naked Gun 2 1/2: The Smell of Fear – 1991
Across The Tracks – 1991
Hook – 1991
VI Warshawski – 1991
Delirious – 1990
Joe VS The Volcano – 1990
Funny About Love – 1990
Instant Karma – 1990
Turner & Hooch – 1989
The Burbs – 1989
Vibes – 1989
Chances Are – 1989
Elvira, The Mistress Of The Dark – 1988
Punchline – 1988
Missy Elliott,  Work it – 2009
Shakira,  Hips Don't Lie  – 2009
Dixie Chicks,   Not Ready to Make Nice –  2009
Faith Hill & Tim McGraw
Blue Man Band – 2006
Eminem, Just Lose It – 2004
Christina Aguilera, Pink, Lil Kim, Missy Elliot, and Mya, Lady Marmalade – 2002
Creed,   Arms Wide Open
Angie Stone,  Life Story – 1999
Madonna,  Bedtime Story – 1994 |  Human Nature – 1995