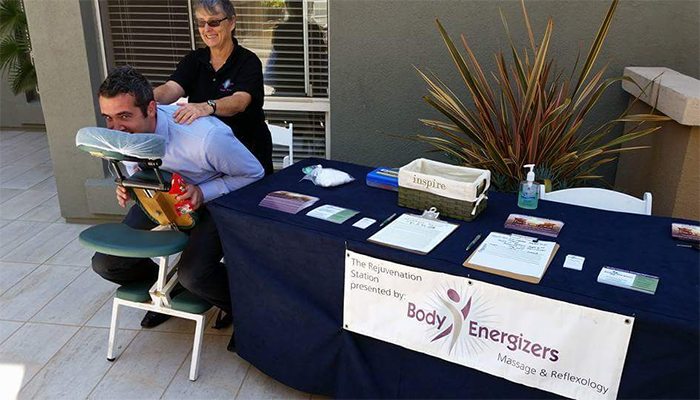 "The Better Alternative To The Coffee Break"
Great for ongoing wellness services or those special occasions when you want to show your team your appreciation for their hard work.
Personal Benefits:
Increases creativity and productivity
Boosts energy
Rejuvenates body and mind
Increases overall feeling of well being
Relieves muscle pain and tension
Reduces stress & repetitive use injuries
Increases flexibility
Promotes better sleep
Company Benefits:
Shows your employees you care about their well being
Boosts moral
Increases employee productivity
Increases employee satisfaction
Increases employee retention
Reduces absenteeism
Reduces employee stress & anxiety
Decreases workplace injuries
Increases focus, energy & mental clarity
It's been proven if you are less stressed you will get more done in less time.
About Us
Certified/Insured team of the top massage therapists in the country
More than 30 years of experience
Scalable team to accommodate any size staff
Portable chairs & tables
Quick & quiet setup in minutes
We help you do what you do best.  One call to us and we do the rest.  Gift certificates available.